Bands
The Dragon Boy's are:
Gary Edward Kiyan on Guitar, Vocals,
Richard Power on Bass and Vocals
Andy Rykowski (AKA Dee Ri) on Drums and percussion.
Gary Kiyan and Richie Power go back a number of years together when they were in the band Tribes, a local N.Y.C. band that worked the downtown club scene. The band was for a brief time produced by Frank Carrillo, former guitar player for Peter Frampton and many others and focused on original compositions rather than the typical cover music scene. When the group disbanded Richie became a regular on the Long Island club scene, while Gary started the popular N.Y.C. band, The Crows, who for a time dominated the New York club scene as house band for the famous Bitter End, known for great original music as well as working the east coast blues and rock circuit and the Chicago blues scene.

Andy a well know Long Island drummer working with a number of local acts along with a large following of students became acquainted with Richie who was working the Long Island club scene with the band Blue Collar, which Rich was a founding member of. When Gary and Ritchie came back into contact with one another and decided to launch a new original project, Andy became the missing piece to the puzzle.

Gary has built a large portfolio of original composition from former band projects and work for hire compositions along with a number of new songs written for the Dragon Boy's. Between Gary, Richie and Andy, The Dragon Boy's are a group of accomplished musician whose sum is greater then its parts. This is a group of seasoned professional quality musicians blending their unique musician identities to form a special musical synergy. So, a little bit of blues, a little bit of rock, pop and a lot of good energy and talent are "The Dragon Boy's"
Gary Edward Kiyan

Gary Edward Kiyan, Guitarist, Composer, Singer, Producer and Founder of Dragon Boy Music:

Music has always been close to Gary's heart and fortunately his talents were recognized at an early age as he entered the education system, participating in vocal programs beginning in elementary school. As he progressed through to Junior high and high school playing an instrument became his primary focus, first starting out as a Trumpet player in the school band and later discovering the guitar. It was at this point that music gained a dominate position in the course of his life, the kind of consuming passion that everyone hopes to find in life.


Continued »

Dee Ri

Performer, Teacher, Author and Publisher Hello, my name is Andrew Rykowski. For ease of memory, I use the stage name Dee Ri.

Having been an active participant of the drumming community since the first time I picked up a pair of Ludwig 2B's back in 1977 at the tender age of nine, I have always know that this instrument was my life's passion. I don't just play , I am a player.

Continued »

Rich Power

Rich Power; Bass player, Vocals

Rich Power Has been a fixture in the Long Island, NYC music scene for a number of years, has done a broad array of session and band work with a number of notable original and cover music acts primarily from the east coast. Know as one of the more tasteful and versatile players out there, Rich has great attitude along with a great skill set. Working with a wide range of performers from the original music act Tribes (where Rich first meet Gary Kiyan) to Blue Collar a main stay in the Long Island cover band scene. One of Richie's strongest talents is his ability to listing to a song and gives to it creating tasty bass line that complement and enhance the music he is working on. Rich really adds fullness to the Dragon Boy's with his lead and backup vocal abilities, perfectly complementing Gary's songs and style of play. A rock solid player with a great ear and great vocal talents make Rich Power an asset to any music project he lends his talents to.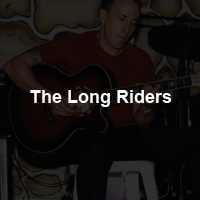 The Long Riders
Gary also performs with the Long Riders trio which is a blues based band that does great versions of blues, Rock and R and B classics as well as many of Gary's original tunes, The Long Riders are David Donen on drums; David has backed of a broad range of great players over the year including Tim Harden and Frank Carrillo. On Bass guitar Mike Berman another NYC staple on the blues and R and B scene, a consummate professional in every way. Both player along with Gary on Guitar and vocal make up a high quality act of seasoned professionals that deliver great performances throughout the New York Club network, catch this act as it shows a different aspect of Gary's music and is an outlet for Gary's love of the blues.
Gary Edward Kiyan

Acoustic Guitarist, solo and duet performances, Gary is an accomplished finger style and slide guitarist and in addition to his work with his bands and as a sideman for various act, Gary often perform as a solo acoustic guitarist doing renditions of classic blues, folk, as well as other classic tunes and his own original songs which include a number of interesting instrumental composition. No matter whether he is performing as an opening act, main act or just providing atmospheric music for event, these show demonstrate the full range of Gary's playing, arranging and composing talents and are often frequented by other guitarist looking to expand their own range.